Oops. . .your slip is showing! Well, here is a slip that is MEANT to be shown! Your Slip is Showing is a new line of woman's apparel whose philosophy is bred from intimacy: "We dress you from the inside out, and the outside in, We offer flirtatiously embellished slips to be worn interchangeably under our playfully interpreted classic dresses and skirts."
Your Slip is Showing has two different lines of slips: Madam! Slips (which are MY favorite) and Oops! Slips. The Madam! Slips are much more ornate, where as the Oops! Slips are more subdued with pretty, feminine detailing.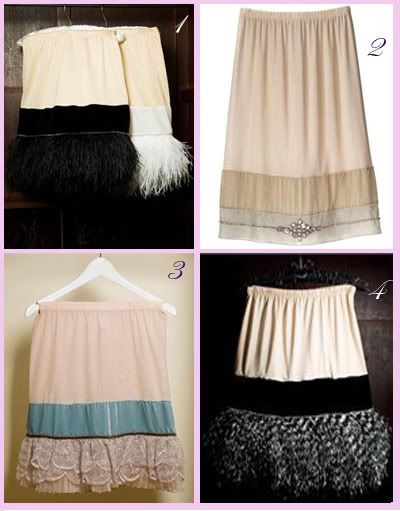 1. Madame! Feather Slip    2. Oops! Sand Garden Slip       3. Madame! Salt and Pepper Slip  4. Oops! Pink Ice Slip
I am lusting after every slip in the collection! I think they are such a fun, unique way to create one of a kind looks! Update a boring dress or skirt by adding one of these slips under it. . .and "bam", a whole new look! These are especially great to throw on under a dress or skirt after work and go meet some friends for drink. The possibilities are endless! 
I've looked for any other slips I can find that are even remotely similar to these, but this seems to be a one-of-a-kind find! Currently these slips are only available at a few stores nationwide, but they are available for purchase at Your Slip is Showing online!
Available in store:
NY 
646.422.2600
212.226.0004
CA
818.343.5332
310.798.4577
MA
508.228.7818
AR 
501.223.8585
Internet