As I mentioned previously, I spent Saturday in Old Town Alexandria, VA. While exploring I stumbled upon a fantastic boutique called An American in Paris.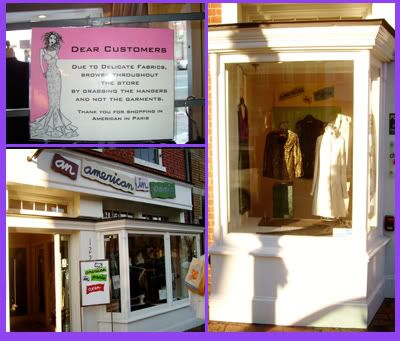 Upon entering the small boutique I was greeted by owner Joelle Solimano, a petite french woman with a love for beautiful clothing. Raised in Avingnon, a province in the South of France, Joelle was destined to love clothing. Her father is an Italian native who grew up near Milan, Italy. Joelle moved to Alexandria 15 years ago, and opened her boutique 10 years ago.
Joelle explained to me how to browse through her clothing, pointing to a sign which read, "Due to the delicate fabrics, browse throughout the store by grabbing the hangers, not the garments." Only one sample of each item hangs in the store, with additional sizes in the back room where Joelle will grab it for you. This allows shoppers to browse items easily, without digging through various sizes. . .and allows Joelle to display hundreds of items in her tiny space.
Top Left image:
far left dress: Nicole Miller Collection
purple handbag: Deepa Gurnani
far right purple dress (a favorite): Black Halo

When taking a look around the store you will see wall to wall clothing, with little attention paid to decor. Joelle takes pride in her clothing. . .and to her, the clothes are the decoration. Joelle describes her boutique as
an original french boutique where you can find one of a kind pieces.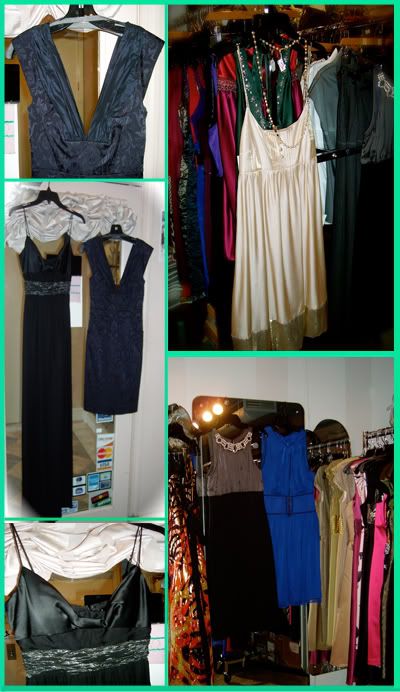 Joelle's pick for favorite dresses
Both Nicole Miller Collection

Top Right Image (my fave items in the store!)
Dress: Julie Haas
Necklace: David Aubry

I chatted with Joelle about her personal style, and her thoughts for trends for the Spring. Joelle describes her style as eclectic and quirky, with a classic touch and believes clothing should be able to be worn for multiple seasons. When selecting for her store she looks for timeless pieces made of the best fabric. . .and searches out European Designers or American Designers with European roots.
Joelle's predictions for Spring:
1. Color:
Salmon
2. Detailing: Fringe
3. Separates - mix and match suit separates, lots of pants, layering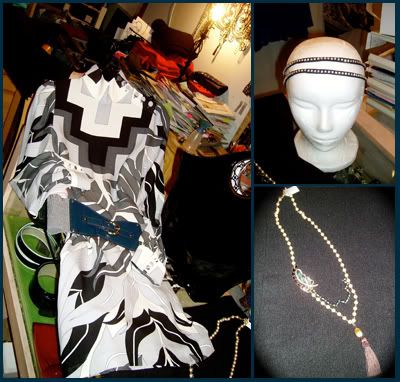 Left image:
I LOVE this look!

Dress: Tibi (note the button detailing at shoulder!)
Belt: Streets Ahead
Bag: Pa Tou Tou

Headband: Deepa Gurnani
Necklace: David Aubry



Joelle tip: If you are going to wear pearls that aren't real, wear pearls that have some interest to them.



Joelle stocks her store with lots of Black Halo, Nicole Miller Collection, Tibi, Milly and other European designers. What I loved most about the store, and Joelle was her LOVE of every article of clothing in the store. She buys exactly what she would want to wear, and is clearly passionate about clothing. She also has some of the best prices you will find on clothing, many items are up to $100 cheaper than you might find elsewhere.
Shopping at An American in Paris is like browsing through a closet. . .and I certainly wish that it was my closet! If you're in Alexandria, be sure to stop by. . .and if you live in the DC area, make a trip out to Alexandria to check out this gem!
An American in Paris
1225 King Street
Alexandria, VA 22314
703.519.8234