A rather controversial trend - the jumpsuit is one of those items that you either love, or hate. It is also a look that is extremely difficult to pull off, however, when worn correctly can exude a feeling of chicness. Sister to the jumpsuit is the romper, a short version of a jumpsuit. The romper can still be worn well into fall with long sleeve versions, or by donning a pair of tights.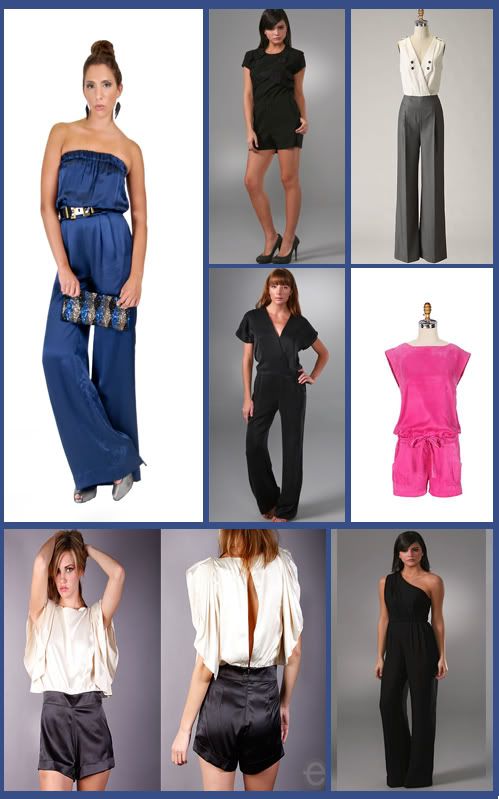 With this trend, there is a fine line between the best-dressed and worst-dressed list. Follow these simple rules to insure your spot on the best-dressed side.
Rule 1:
Choose a loose fit, there is nothing worse then a tight jumpsuit creating the dreaded camel-toe effect.
Rule 2:
It's all about the fabric. Now is not the time to skimp in the fabric department. Select a jumpsuit made of flowing silk, or a heavier cotton. Steer clear of anything with spandex in it or the look will go from chic to cheap.
Rule 3:
Wide or strait leg is the way to go. There are VERY few people who can pull of a jumpsuit with a skinny leg. Keeping the leg line streamline with a wide leg will make you look long and lean.
Rule 4:
Consider a belt. Help break up the solidness of a jumpsuit, and define your waist by adding a belt. Whether thick or thin, the belt should accent the outfit, and not be the focus.
Rule 5:
Choose the color or pattern wisely. The safest way to go is by selecting a dark color such as black, navy or brown. Bolder colors and prints can look nice as a romper, however they are too much on a jumpsuit.
Rule 6:
Two-tone. To soften the look of a jumpsuit or romper, consider one that mixes two different fabrics or colors. This gives the appeal of separates, while still being one piece.
Rule 7:
Simple accessories. The jumpsuit is a focal point enough, without adding crazy accessories to the mix. Stick with a simple clutch, long earrings, and a nice metallic heel to finish the look.