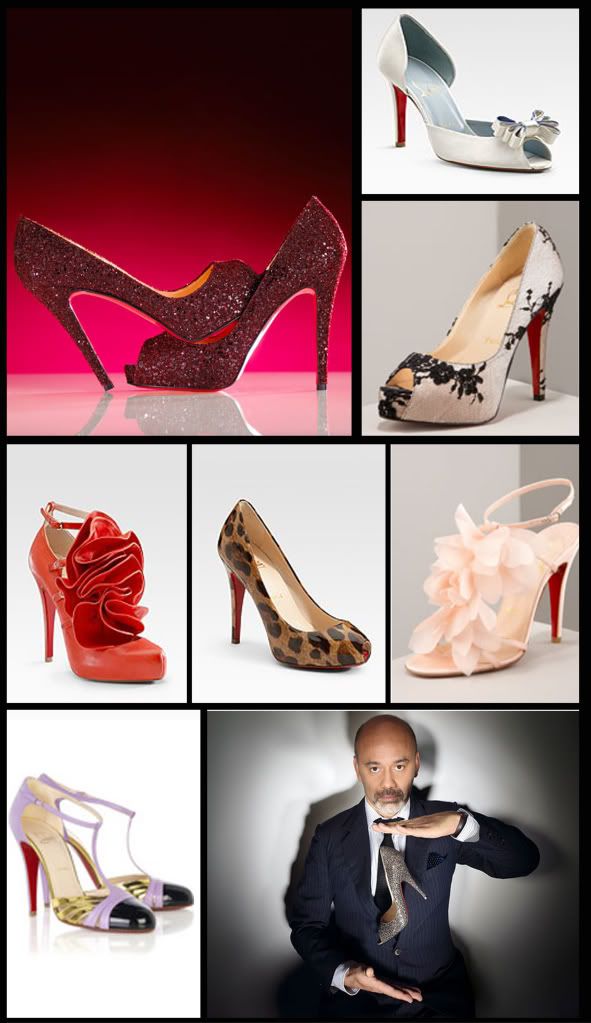 Shoes Pictured from Saks, Neiman Marcus or Net-a-Porter
There is nothing like fabulous shoes to get me motivated and cure my writers block. . .especially when those fabulous shoes happen to from Christian Louboutin!
Since opening his first boutique in Paris in 1992, Christian Louboutin has flown to the top as one of the most coveted shoe designers of the century! His signature red soles are the epitome of style and wealth. The red sole itself came about as a "
happy accident
", Louboutin explains.
"I did not really choose the

red sole

. It's more like the red sole came to me and had to stay with me. It started as a happy accident, which I kept. I was very inspired by pop art so all my drawings were really full of colors. So the first prototype arrives. It's very very very very similar to my designs so I was very happy. But something was missing. Thank God I had this girl with me who was painting her nails. Grabbed her nailpolish… thank you to Chanel for that! (laughs)… I grabbed the nailpolish and I painted the sole. I started immediately in my shop to have the red sole the same season.
"
Thank goodness for that "accident", it is the red sole that has helped sky rocket the Louboutin brand and make his shoes so easily recognizable. Unfortunately. . .the red sole comes with quite the lofty price tag of $500 to more than $1000 a pair!
Guess what? TOMORROW
Gilt Groupe
is having a Christian Louboutin sale!!! This is nearly unheard of. . .I have scoured ebay as well as clearance sales at Saks, and it is nearly impossible to find a decent Louboutin for less than $250! Based off the wonderful pricing on past Gilt sales, I fully expect most shoes at the sale to be priced at less than the $250 mark!
Follow the below link to sign up with Gilt Groupe!

TIP: Louboutin's tend to run atleast a half size to full size small. . .so if you are typically a 7, order a 37.5 or 38!
I had the wonderful opportunity to meet Mr. Louboutin myself when he came to Atlanta for an event at Jeffrey's this past October. He signed the bottom of my coveted Louboutin's that I bought in Paris 4 years ago at his flagship store! On my shoe he wrote: "Pour Lauryn, Devine. Louboutin"
I spoke with him in French for a few minutes, and just by that brief meeting I can tell what a kind and friendly man he is. I, along with my shoes, was featured in The Atlantan as well as Atlanta Peach Magazines. It was an experience that I will never forget!