As I mentioned a few weeks ago, Betsey Johnson, Vera Wang and Carmen Marc Valvo all opted out of showing their collections at New York Fashion Week this Spring. Now Monique Lhuillier and Naeem Khan won't be showing either.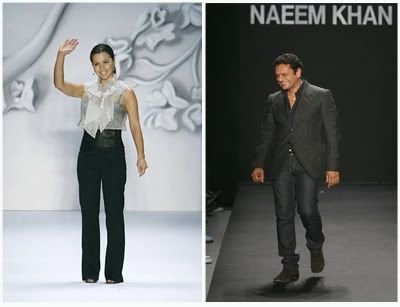 According to Paul Wilmot, whose public-relations firm Paul Wilmot Communications represents both brands, the designers will be hosting smaller, more private shows instead. Although previous designers have cited the economy as their reasoning, Wilmot insists that this is not the reason for the change for Lhuillier and Khan. Instead, Wilmot says the designers wanted to try a new approach to selling clothing. The more intimate setting will allow buyers and guests an upclose a personal look at the designs, as well as a chance to meet and talk to the designers.
Although I think that Fashion Week is an incredible event, I do agree that shifting to a different format could yield some positive reactions. This format is a throwback to the original fashion shows when designers such as Coco Chanel used to host small, intimate viewings of their latest collections. This makes the event much more about the clothes, and not so much about the hype surrounding it.