I LOVE LOVE LOVE Black Halo. It's been on my style radar for a while. . .I always like the designs. . .but I've never paid too much attention to it. Which is strange really, because Black Halo designs have a tendency to grace magazine covers on a monthly basis. This season Black Halo is now one of my favorite Collections! What I love most about Black Halo is that their designs combine a classic look, with a sexy flair, and interesting detailing. Their pieces are timeless, without being boring.

Without further adieu. . .I present to you. . .my obsession for Spring. One of my MUST HAVES for the season.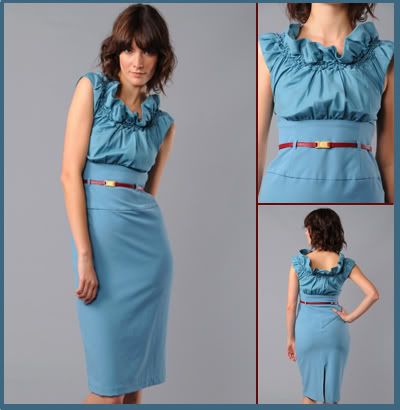 I LOVE the classic shape of this dress, yet the interesting ruffle detailing around the neck and bust. Even more I love the beautiful powder blue color, contrasted with the red skinny belt! PERFECTION!
This dress is the perfect addition for any closet because of it's timeless characteristics. This is sure to be worn for seasons to come!
So who can wear this dress? This dress is certainly a figure conscious one. . .and you can bet I'll definitely be throwing a pair of Spanx under this one! Believe it or not though, this dress will work for a variety of figures.
An hourglass figure would obviously be a knock out in the dress, but be careful the dress hugs the curves just right. . .just not too tight! Hourglass figures have to be careful, because their body shape screams sex appeal. . .although a little sexy is good. . .you don't want to come across as a full on sex kitten!
If you are more of a pear shape, this dress can be flattering as well. . .just make SURE it's not too tight across the rear. . .consider going up a size from your norm. The volume in the chest and shoulders can help to balance a pear shape.
This would also be flattering on someone with a tall, strait figure. The belt and the volume in the chest help to add some shape to a strait frame. Equally, even if you are on the short side, the high-waist on this dress will help to visually elongate the legs. If you are on the short side have the dress hemmed just above the knee to make your legs look even longer.
I think I will have to find some room in my closet for this one this Spring!