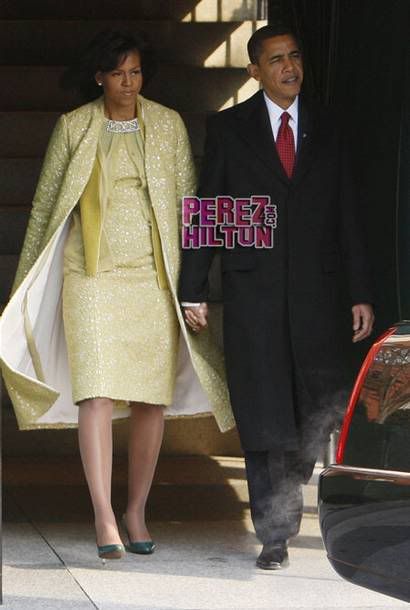 According to
Perez Hilton
, Michelle Obama's (MO) Inauguration Day Dress was made by Cuban American designer
Isabel Toledo
. Toledo received her degree from New York Fashion Institute of Technology and worked as the creative director at Anne Klein for a while. Toledo has been designing under her own name for 20 years, and is married to fashion illustrator Ruben Tuledo. Tuledo's designs are available at Barney's New York.
Throughout Obama's campaign, he expressed the importance of improving relations with Cuba, which could have had some influence on MO's Inauguration Dress choice. 
So back to the dress. . . .I am not very impressed with the selection. I like it in theory. . .yellow is a popular color for Spring 2009, and flattering on MO. And I really love the fabric of the dress. . .but the way it fits Michelle is all wrong.
The neckline of this confuses me as well. What is the jewelry thing doing up there? And is she wearing some sort of cardigan or scarf attached? I'm not so sure what is going on there. The coat seems a little big, and baggy. . .and the lining looks cheap to me. The worst part for me is the SHOES!!
Overall I have to say that this look is a total miss for MO. It makes her look matronly and larger than she is. What do YOU think of this look?