Victoria Beckham has become a fashion icon for the world, a walking advertisement of fashion perfection. Although some may criticize her shockingly thin frame, in my opinion Victoria Beckham (VB) is the epitome of style. In a world where jeans are quickly becoming accepted everywhere from the office to a cocktail party, VB runs around town in pencil skirts, 5 inch stiletto's and a matching Hermes Bag.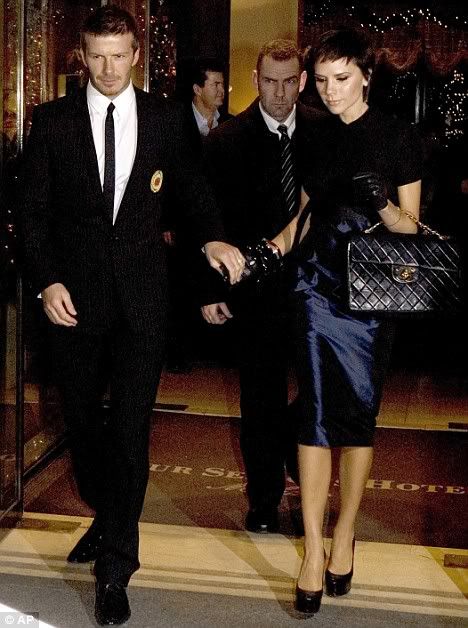 On a recent
trip to Milan
with hubby David Beckham, VB managed to change into 3 equally glamorous outfits in a matter of 15 hours. These weren't just any outfits, but the latest looks from her dVb collection, ranging in price from $1000 to $3000. 
Outfit number 2 is a stunning strapless dress paired with simple accessories. I love the detailing around the hips of this dress! Although, it is certainly only meant for someone with Posh's perfect proportions! 
I am all about faux fur this season, and VB, an avid PETA supporter, sports a chic black faux fur bolero to complete her look.
Taking every detail into account when dressing her small frame, VB chooses beautifully tailored, form fitting, classic pieces and pairs them with stunning accessories. Most importantly VB takes risks in her clothes, not always choosing the best outfit, but that is what defines a true fashionista. 
Copy Posh's look by choosing silhouettes that flatter your frame and that are timeless pieces. Build upon it with chunky bangles and chic black leather gloves (which I love love love for winter!) Finish the look with a structured bag and sky high heels.