The days are getting longer and the weather is heating up. . .to me this means one thing: Spring Dresses! After months of winter full of dark colors and heavy clothing I anxiously await those first few warm spring days when I can step out sans tights in a floaty spring dress. In honor of the warming weather and impending Easter, I am dedicating this week to dresses. Each day I will highlight some of my favorite dress choices this season for a variety of needs. Then check back next week to see how I turn some of my favorites into an entire outfit!

Today I will start with dresses for work. With more and more offices turning to a more casual look, women have a much larger selection of clothing to choose from for the office. It is important, though, no matter how casual your office might be that you do remain work appropriate. This can be done through choosing appropriate fabrics, fit and cut.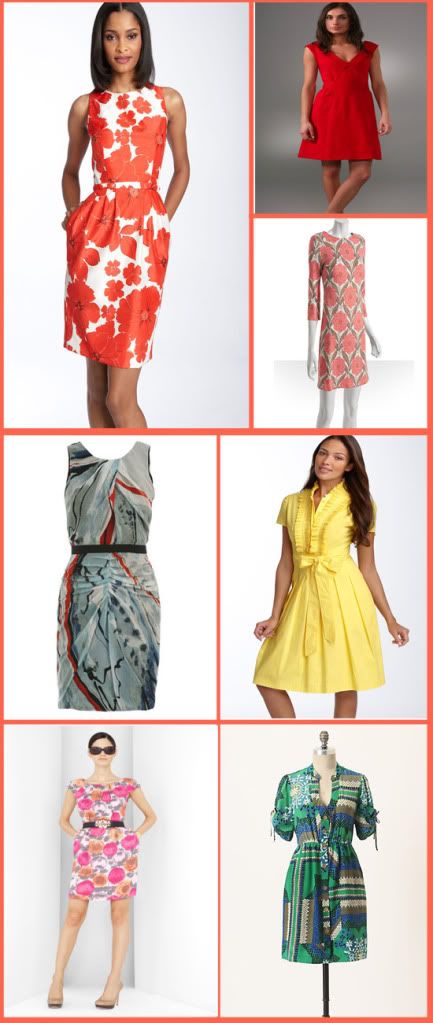 Row 2: DVF, Eliza J
Row 3: BCBG, Anthropologie



Wide hips?

Try: Yellow Eliza J, Red Marc Jacobs


Straight Figure?

Try: DVF, Print Eliza J, BCBG


Belly?

Try: Julie Brown
Fabrics:
Choose more sophisticated fabrics, such as silks, structured cottons. . . .even a jersey fabric can be great in a structured wrap dress, especially for those who travel.
Fit:
Nothing too tight, too short or too low cut are all obvious. But what about nothing too loose? Wear your dresses fitted, even a floaty style should graze your curves, not swallow you like a trash bag.
Cut:
Think tailored, structured and sophisticated.