Well girls. . .it's official. . .swimsuit season is quickly approaching. The sudden influx of people at the gym certainly gives that away! The hunt is on for the perfect swimsuit this season, and I have compiled some guidelines for choosing the best swimsuit for your body type!

All of the suits below are from Victoria's Secret. Not only do they have one of the largest collections of swimwear, but I love how easy it is to mix and match tops and bottoms, and how most bottoms come in a variety of cuts. This makes it extra simple to find the best suit for YOUR own body. Another perk of buying top and bottom separately is sizing. Most of us aren't perfectly proportioned, which means we might wear a different size top than we would bottoms!


Large Chest
For those whose chest is on the large side, finding an appropriate swimsuit can be a problem. Both of the above swimsuits are great, and stylish options for women who have a large chest.
The black swimsuit to the left is a great option for those who need a lot of support. The cups have an underwire as well as removable padding, making the suit fit more like a bra than a swimsuit. Note that the halter is thick, instead of a thin string. This gives more support, and is more comfortable than having a thin string cutting into your neck and shoulders.
The suit on the right also lends support. Note the thick band below the cups. . .this helps keep the suit in place, give you support and keep the girls locked and loaded. If you want a triangle style suit, look for styles like this one that have that band under the chest, this will also help prevent "under boobage" from peaking out the bottom!
Small Chest
A small chest is one of the easiest problems to fix when looking at swimsuits. The Victoria's Secret Miracle Bra Suit collections makes it even easier. The suit on the left is part of this collection, and includes padding to help the girls out. Adding a pattern to the chest helps emphasize it as well.

Another perk of a small chest is the ability to wear a bandeau top! Because people with a small chest don't need extra support, a bandeau top works perfectly without falling down!

Another way to make a small chest appear larger is ruffles. Victoria's Secret has several suits with ruffles on the top. This is an easy trick to add size to your chest!

Wide Hips/Big Booty
A Pear Shape is one of the most common shapes of women. . .and one of the most common complaints. Well, you can't change your shape, but you can use these tips to help take the focus off of your lower half.
Both suits have something in common: attention grabbing tops. The suit on the left pairs a solid bottom with a detailed top. This brings the attention away from your hips and up towards your face. Likewise, the suit on the right has a pattern on the bottom, but the sequined top still draws the eye upwards. Almost any suit at Victoria's Secret can be mixed to work like this. Just find a top you like, and then check out the solid bottom options in a matching or contrasting color!
Another great thing about both suits is the tie bottoms. Suits without tie bottoms tend to be a problem for pear shaped women as they usually cut into your sides. When selecting tie bottoms make sure that they offer full front and back coverage. Nothing makes your hips look wider than a small front portion and a foot of tie wrapping around your sides. Note how on both these suits the front panel extends all the way to the hips.
Stomach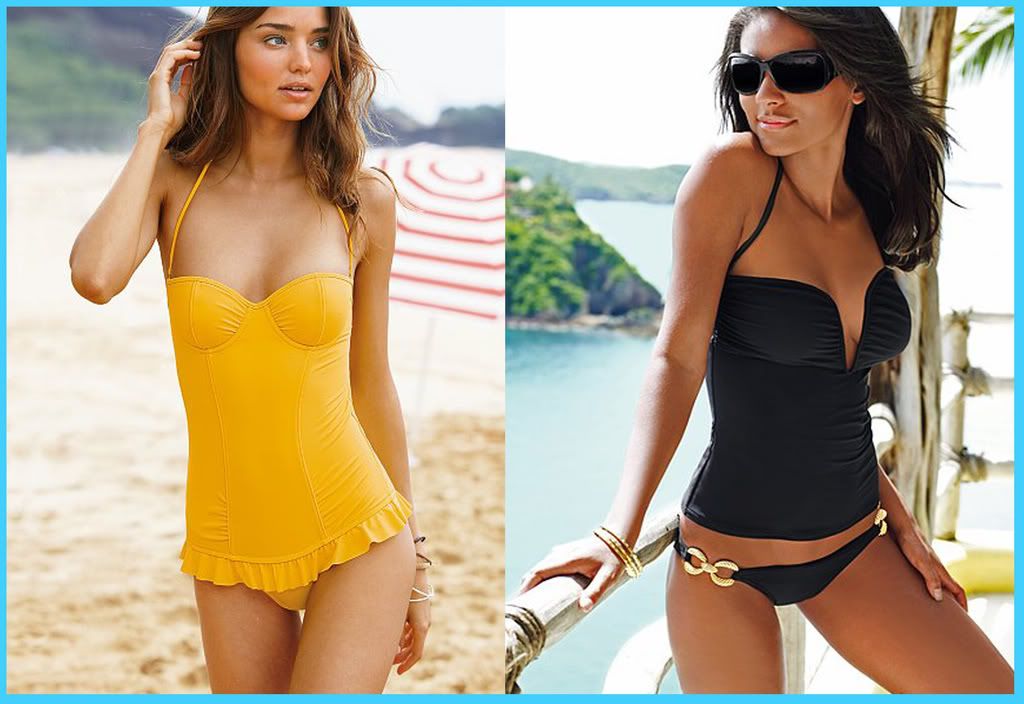 The absolute BEST way to hide a tummy is to wear a one piece or a tankini. The good news is that both of these have come a LONG way over the years, and now are not only trendy, but really cute! Look for detailing around the bust and hips to draw the eye away from the stomach.
If you really are set on wearing a bikini, look for bottoms that are a little higher cut. This doesn't mean mom bottoms, but just avoid a scoop bottom.
Petite or Strait Figure
If you are petite look for swimsuits that don't cover you up or overwhelm your small size. Go for smaller patterns as opposed to large patterns.
For strait figures the suit on the left is perfect! The ruffles on the top and around the hips help to add curves and give you a more hourglass figure. Look for detailing like this that will help add some shape to your strait figure.
Everyone


1. Buy your size:
All too often I see women wearing swimsuits that are a size too small! Just go one size up to avoid muffin top, and other bulging that isn't flattering.
2. Try on, try on, try on:
There are SO many different styles out there that you have to try on different things to see what will work best for you.
3. Mix and Match

:
We are all built differently. Mix and match different tops and bottoms to find the fit that works best for your body. Small chest, big hips? Go for a ruffled, print top and match with solid, tie bottoms!